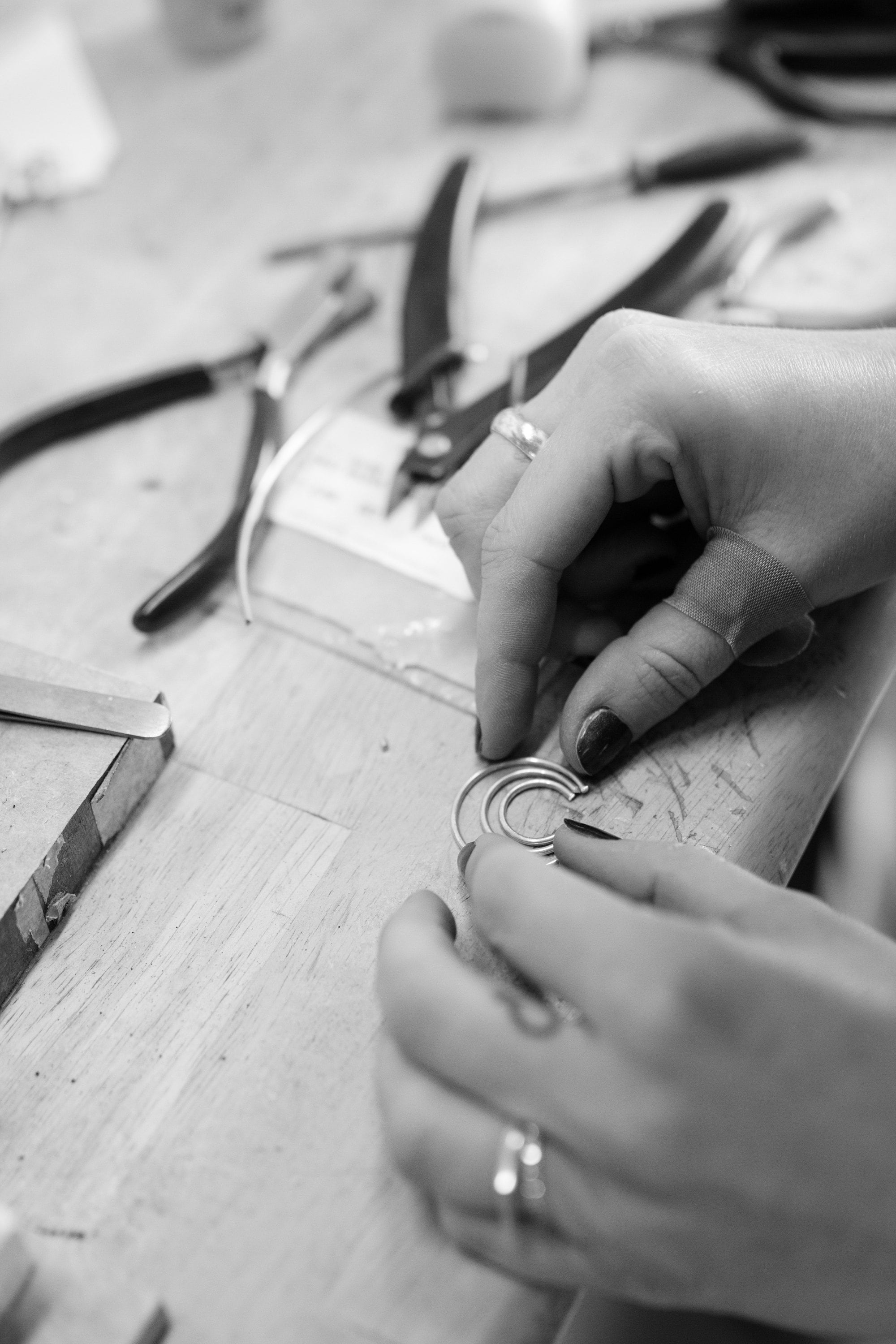 For my first blog entry I had something a little different in mind.  I imagined of telling the story of how Jenna Koo Jewelry came about, my inspirations, my aspirations and the future of this small business of mine.  I sat down the other day and I couldn't get anything down that didn't sound mundane or corny.  A blank cursor mocked me with each blink. I felt like I've said it all already, even before my first blog entry, in my social media or previous websites.  So I turned to you, the readers, my friends.  I wanted you to ask me some questions that you may have for me, while at the same time, I could still get the story of Jenna Koo Jewelry out.  You guys did not disappoint.  I got an influx of really great, thought provoking questions that got me really excited to write.  And so, here we go in no particular order (I may throw in some common questions and combine some questions if they are similar, FYI):
1. Name and where do you live? 
Jenna Koopmans I currently reside in Fort Collins in Northern Colorado. 
2. Where are you from originally? 
I was born and raised in a small farming town in central Wisconsin.  When I was 18, I moved to Milwaukee to start college and lived there for 12 years until my husband and I packed up and moved west.
3. Do you have a degree in jewelry? 
I don't.  I actually have my degree in Horticulture and before making jewelry, I was a horticulturist for the City of Milwaukee as a greenhouse specialist.  My green thumb comes from my mama who has been gardening my whole life.  I always had a little tomato plant in the corner of her garden that was all mine to tend to.    
4. When did you start making jewelry?  When were you bit by the jewerlry making bug? 
I started making jewelry in 2014. 
5. How did you get into making jewelry? 
I got into jewelry after I decided that landscaping and horticulture was no longer what I wanted to do career wise.  It kind of fell into my lap when I started to piece together these big agate slice earrings when I was in between jobs to keep my mind occupied.  I made them for a friend and then another, and then another.  Jenna Koo Jewelry was born out of my friends keeping my hands and mind busy for their stylish wants and needs and I'm forever in their debt.  Less than a year later, I began metalsmithing.  
6. How did you learn how to make jewelry?
I was given an early X-Mas gift from my parents for a 6-week beginning metalsmithing course here in Fort Collins.  It was just in this guy's garage who had maybe 4 students including myself, in the middle of the winter.  He taught us how to do a few very basic designs; rings and pendants mostly.  It was the stepping stone however, for me to really grasp the idea on how to smith.  I'm very much a visual learner, so once I learned how to solder properly, I was on my way.  After the 6-week course was finished, I had the option to move on to more advanced classes, but instead I decided to invest in a little bit of silver, some tools, and a little propane torch (nope not even a butane one, yet) to get started.  
7. What was the first piece of jewelry you made, did you make it for yourself or for someone else? 
The first piece I ever made was a little sterling silver ring with a piece of Chinese turquoise in the center.  My mom loved it so I gifted it to her.  She still wears it.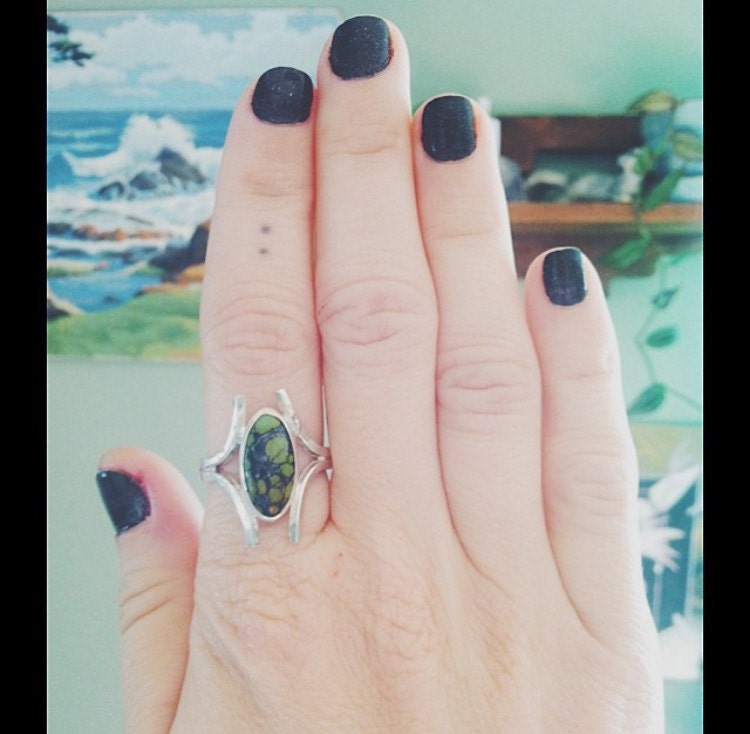 8. What is it about turquoise that attracts you to focus on that stone in so many of your pieces? 
I love the history of turquoise. The fact that it has enamored generations with its unique characteristics, is just a story in itself.  I like stones that carry a story.  Not to mention, it comes in a wide variety of colors and textures.  If a stone can hold my attention for more than a week, it's a winner in my book.  
9) What are the ABC's of identifying quality turquoise? 
I look for a few things when I look for turquoise (or stones in general): First, it's got to obviously be eye catching. The colors of turquoise can tell you a lot; which mine it may be from and what minerals were around when it was formed (for example faustite and zinc give Carico Lake Turquoise its characteristic lime green colors). Next, if it's a cut-and-finished stone (called a cabochon), I look at the quality of the cut. Are there fractures? Will it allow a flawless setting? Is it stabilized? What's the finish like? A skilled lapidarist (a person who cuts and polishes stones) is just as important as, if not more important than, the quality of material.   C) What mine it's from/when it was mined.  Some of the turquoise on the market today is from mines that are no longer in production which can greatly impact the final price of the stone or piece of jewelry it may be set in.  
10. What do your finger tattoos symbolize? 
I have a few finger tattoos.  I have the female/venus symbol on the inside of my right middle finger.  It's my spitfire feminist personality coming out saying "screw the patriarchy" with each flip of the bird haha.  On my left pinky I have some black and white lines and on my ring and index fingers I have some polka dots.  I've always been obsessed with geometry and circles and dots.  I got them for fun.  As artist Yayoi Kusama once said "Dots are a symbol of the world, the cosmos.  The earth is a dot, and the sun and the stars are all made up of dots.  You and me, we are dots!" I like that.  
11. What has been the hardest part of your journey? What's the most rewarding?
The hardest part of this journey I would say would be the unexpected creative blocks that I have more frequently than I'd like to admit.  Ideas don't always come easy, they come with time and time is something that I don't always feel that I have.  It's an oxymoron, right? I need time to create and I can only create after I have some time.  It's a constant battle.  
The most rewarding part of my job is seeing a happy customer.  Hands down.  Screw the sweat pouring down my brow when creating pieces in a 95 degree day, screw the money, screw the creative frustration.  The expression on a happy customer's face is what this is all about.  Whats even better is when a customer comes to me a year later saying that it's still a favorite piece of theirs or I'm still their favorite jeweler.  That feeling is awesome.  The thought of an idea of mine coming to fruition and for someone to tell me that they cherish it, yep.  That's it!  
12. Has Jenna always been the blondie badass she is today? 
hahaha yes? My parents wouldn't call it "badass", they'd call it sass.  
13. What were you like as a little kid? 
I was a natural blonde, sassy, dirty, filthy mouthed little girl. Yep. Nothing much has changed but now, I have to pay to be that blonde.  
14. What did you want to be when you were a child?
I wanted to be a bunch of things but a few that come to mind are waitress, meteorologist, botanist and an archaeologist.  
15. What is the biggest overall lesson you have learned in running a business?
Not to compare myself to others.  Being a smith has a lot (and I mean a LOT) of competition.  I have eventually learned to go at a pace that I'm comfortable with and know that every situation is temporary, good or bad.  Life is temporary.  Don't take it too seriously.  I don't know if that's the BIGGEST lesson I've learned, I've learned too many valuable lessons along the way, all just as important, but yeah, go at a pace that you're comfortable with!  
16. Which traits of yourself are you most proud of?
I'm proud of how adaptable I can be. In addition to learning a new art, I had to learn how to market my business. I'm constantly striving to get better at all of it while letting go of the things I can't do anything about. Workin' on that control thing.  :) 
17. What does "being successful" mean to you?
My definition of success changes daily.  Sometimes being successful is getting out of bed and just sketching a design for the day, and sometimes being successful means finishing the 15 items that are on my bench and selling them all within a "reasonable" amount of time.  I like to be somewhere in the middle.  I don't really know what my long term success story looks like, so right now I'm just riding the day-by-day train.  See? Adaptability plays well here! haha 
18. When did your love for Dolly (Parton) start?
Hahaha I love this question but I can honestly say I don't know when my love for her started.  Probably the first time I heard her sing "Islands in the Stream" or when I saw "9-5" or "Steel Magnolias" play on the tv when I was little.  
19.  How do you work through creative blocks and how do you find inspiration?
My creative blocks all require different attention.  Sometimes all I need is to doodle in my drawing pad to get through it, sometimes it can take an excruciatingly long time.  Usually getting out and doing things I love works, like gardening, camping, etc. Often I get custom requests from customers that push me out of my comfort zone, and that can help me get a rhythm going again. 
I'm inspired by so many things, it would take a novel for me to tell you them all.  A short list would be: intricate textile patterns, 60's and 70's fashion, street fashion, the sacred geometry of plants, leafing through favorite books, soul music, my friends and family, science...  You name it, it probably has inspired my work in some way or another, big or small.  
20. What was your "dodged a bullet there" moment?
I cannot for the life of me think of a" dodged a bullet" moment in my business.  This just reminds me of old boyfriends hahaha.  
21.What piece of jewelry do you own that is the closest to your heart and why?
The obvious answer for me would be my wedding and engagement rings because of what they symbolize. But I also have a super-simple silver stacking ring on my right hand that I wear every single day.  I made it for myself when I was going through some tough times to remind me that I am my own best friend. Cheesy? Probably, but it works!  
22.Do you have jewelry that you wear every day and who made them?
Besides my wedding band, I like to wear pretty simple jewelry on a day-to-day basis.  I can't do any work with lots of jewelry on, so typically I'm jewelry-less but when I go out I wear lots of silver stacking rings, my favorite beaded earrings that my friends Cream City Rocks made for me, a really cool coral ring made by a Zuni artist, my Orb Weaver ring made by me and one of my statement signet rings made by Megan Rugani of Maiden Voyage Jewelry or Nicole Jo Melton of Knot and Splice.  It's usually a combination of all of those and not all at once.  
23.If you had to make your mom a piece of jewelry what would it be and why?
I've made my mom a few pieces.  I mentioned above that I gave her the first ring that I ever made, but I've also made her a sweet gold stacking ring with a rare Dry Creek Turquoise stone.  I think she has a pair of my earrings from when I first started out, and I need to make her a shawl pin (per her request).
24. Do you ever wake up in the middle of the night with an idea for your jewelry? Do you get up and write it down or do you hope to remember it in the morning?
All.The.Time.  Seriously, right when I'm about to go to sleep, it'll hit me and I won't be able to sleep. My heart starts pounding out of excitement for the next day when I can make it.  I never get out of bed to write it down.  If it's in my head and I'm excited for it, it's staying there.  
25. Did you ever have a piece that you were working on and nothing was going right that you said "F**k this, why do I do this?" Could you salvage it and finish the piece or did you start all over? If finished, did the piece come out as expected or better?
Yes. All.The.Time! haha  Many of the pieces that I make end up not coming out exactly as planned.  There's always something different in them than the vision that I had hoped for.  Luckily for me, they usually all turn out way better than expected.  There is one piece that really comes to mind though when I think of pieces not coming out as I had hoped, but better.  The "Owl's Nest" pendant was supposed to be just a few simple owl feathers, four maybe, around a Mexican Fire Opal.  I think I ended up making like ten owl feathers and piling them all one on top of each other after getting frustrated with the original four. It ended up to be a super cool piece that's now in a loving home.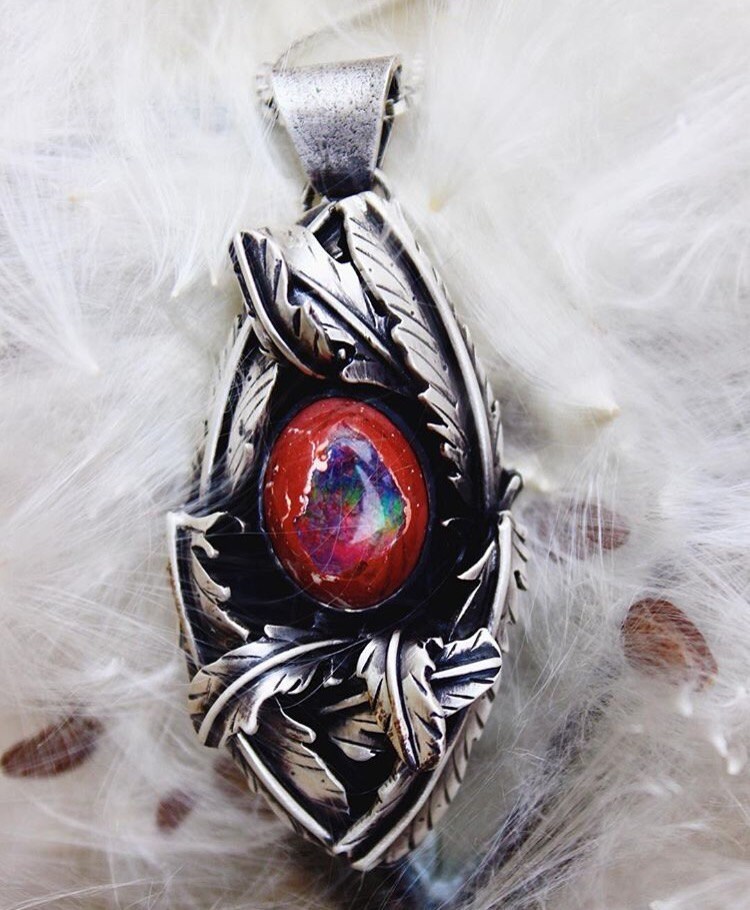 26. If you could meet any "creative" in person (musician, metalsmith, artisan, etc.), who would it be and why? (Person must be living)
I would love to meet the iconic poet, musician and author Patti Smith.   If you've ever had the chance to listen to her sing or speak,  she has this way of capturing a person's attention and not letting go until she is finished.  Everything she does speaks to my soul in a way no other artist has before. There are about 100 quotes that I could use of hers in my life at any given moment , but this one will do for today: "I'm going to promote myself exactly as I am, with all my weak points and my strong ones.  My weak points are that I'm self-conscious and often insecure, and my strong point is that I don't feel any shame about it." 
27. When creating a piece what do you strive to attain?
Quality.  100%. Nothing more, nothing less.  I strive to create pieces that people will cherish for a lifetime. Pieces people will want to pass on to their children and their grandchildren. Pieces that have meaning, heart and a story.  
28. If you could only use one material, what would it be and why?
Sterling silver.  Don't get me wrong, I love my stone collection, but when I get to working with silver it's often hard for me to rein in how much detail I can put in a piece. 
29. When looking at other peoples work, how do you take inspiration from their work without copying the piece? (Because let's face it, we get inspiration from others, but how we incorporate what we envision off their piece without doing what they have done, is difficult) 
When I look at other artists jewelry pieces, I never think to myself, "Oh man, I'm going to make that exact piece."  I think it's an attitude.  I never want to be an artist that thinks that I can go around stealing designs either for myself or for profit.  That's just plain wrong.  I also don't want to be known as someone who doesn't have the capability to create my own art.  How would it feel waking up every day knowing that I wasn't being my true authentic self?  Sounds like a crummy life.  I can however, look at work that I admire and appreciate the skill and detailed work that went into said piece.  I think of how I can maybe learn a new skill to make my own art more diverse.  I come up with new designs based on my love of learning new skills and pushing myself out of my comfort zone. When I truly admire an artists work, I buy it.  I don't take it from them.  
30. How do you battle with the Instagram algorithm and the influx of new makers?
Adaptability plays well here again.  There is absolutely no way that I can understand all of the new rules and regulations Facebook and Instagram have implemented.  It's frustrating to say the least, but I cope.  Such as drinking (just kidding, kind of).  In all seriousness, I just have to roll with the punches.  I started promoting my work more locally, meeting with local artists, signing up for more craft and art fairs and collaborating with people that are like-minded are a few things that help me feel like I'm staying ahead of the game.  
The influx of new makers on social media has just pushed me to be a better business woman.  New artists will emerge and some will fade.  It's the nature of any business. It's difficult at times, but I would hope that my art speaks for itself.  
31.What are your future plans and goals?
Plans and goals are ever changing. I would love to get my pieces in some brick and mortar stores.  The right opportunity hasn't emerged yet so I'm just waiting for the right opportunity to come along that works best for everyone involved.  
I would also like to expand my studio so that I could have visiting business hours where people could come and shop in person and see where it's all made.  It's tricky because I work out of my home so to basically invite strangers to my home is a bit scary.  We'll see if that one every actually happens.  I'm still thinking on that one.